CORNER FARM BARN
 An ideal holiday location including your canine family member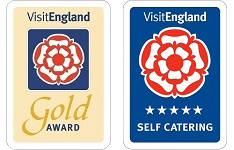 The barn provides security and space for your canine. Including a secure private garden, lovely dog walks in the surrounding area and all of the routine needs for your dog provided for. See the list below.
For your four legged friend the following is provided: dog bed, dog crate, pooh bags, extra towels, treats, food and water bowls.
Being close to the coast, there are many coastal dog walks to enjoy.
A few basic rules to adhere to with your dog:
Please keep your dog off of soft furnsishings.
Please use the dog waste bin for your pooh bags.
Dogs should not be left unattended in the barn, but if unavoidable please use the supplied dog crate.
There may be livestock on our smallholding, please ensure your dog does not cause a nuisance.
There is professional dog bath with warm water, shampoo and towels in the laundry room for your dogs benefit.
CORNER FARM BARN
 Dog Accommodation Summary
Professional Dog Bathing Facility

Beautiful Coastal Dog Walks
Small additional charge for your dog, £10 per day.