Welcome to Corner Farm Holidays
Corner Farm Holidays provides exceptional quality self-catering barn holidays or unparalleled bed & breakfast accommodation. Choose the accommodation that suits you.
The Barn has been available for holidays since the Summer of 2002. During that time hundreds of guests have visited the barn for an enjoyable family holiday or weekend break with friends in rural Suffolk for a luxury stay away from their day to day routine. Many of our guests have returned regularly and recommended Corner Farm Barn to their family and friends.
Bed & breakfast accommodation comprises two en suite luxury rooms within the 500 year old Grade II listed farmhouse. Commencing in 2018 review the now dozens of fantastic reviews.
Corner Farm is a working smallholding that has been developed over the last 30+ years by the Morelli family.
Take an aerial tour!
CORNER FARM HOLIDAYS
Luxury Bed & Breakfast and Self–Catered Holiday Barn in Suffolk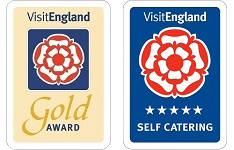 Things to do on your Corner Farm Holiday
Corner Farm is set in glorious rural Suffolk and yet well catered for by great local restaurants and pubs serving excellent food. There are lovely walks right on your door step, with many local attractions and places to visit just a short drive away. These are some of our favourites!
CORNER FARM
News & Events
Famous Parish Church St Mary The Virgin Huntingfield church showcases Mildred Holland's celebrated painted ceiling dating from the 1850s. It is a short 20 minute [...]
Stunning Waveney Valley There is still some summer availability at Corner Farm Holidays situated in the heart of the Waveney Valley in beautiful North Suffolk. Ideal [...]
First lamb of 2023 A lovely surprise on a March winter morning. The first lamb of 2023. Was born on rather a cold damp [...]
CORNER FARM HOLIDAYS
Guest Comments
"The barn is amazing! What a work of art!…Thanks for your help & hospitality."
"This has been a truly wonderful week. We have so much enjoyed staying in your beautiful barn." On return – "It was so good back in the summer, just couldn't stay away. Just as lovely as we remembered."
"The best accommodation we have ever stayed in. We'd love to move the barn to where our house is."